Let's begin with a small but nonetheless defining moment in the lives of this super couple.
An year back Shanjali Shah suggested her partner Kaustubh Khade to go for a weekend getaway to Goa. Kaustubh agreed, upon which his partner suggested to cycle all the way to Goa from Mumbai.
In most scenarios, the partner receiving such suggestions would either laugh it off or get freaked out! But Kaustubh and Shanjali are just extraordinary in their own domain. An inspiration for the myriads of young couples out there.
              MEET THE SUPER COUPLE
Kaustubh Khade an IIT Delhi graduate has always been a sports enthusiast. He took up the sport of kayaking soon after graduating from college. In 2012 at a national championship for Dragon Boat racing, he got selected for the national team to go to the Asian Championship in Thailand.
In his maiden tournament we won 6 silver medals and 3 bronze.
His partner Shanjali Shah an adventure enthusiast, is extremely fit. As an avid cyclist she trains regularly and does a lot of endurance enhancing activities.They spent a lot of their free time on squash, cycling and other sports. It was during all these activities that the super couple actually thought of taking up an expedition for a noble cause.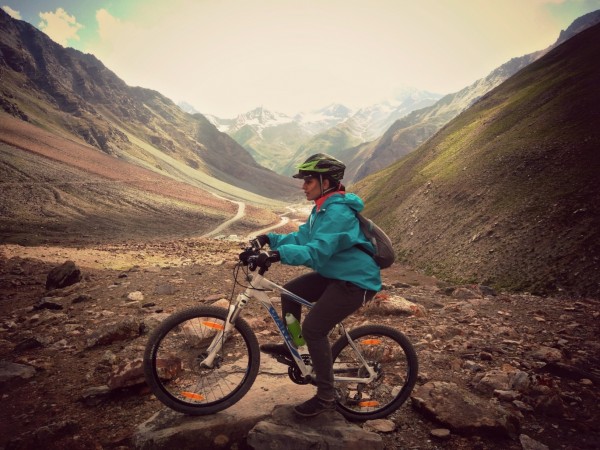 KUTCH to KANYAKUMARI
The expedition took of on 17th November from Dwarka beach, Gujarat. Kaustubh wanted to promote kayaking as a sport in India through this expedition. Besides his personal motive to market the sport, he along with his partner also gathered funds for an NGO. Magic Bus; a Mumbai based NGO that works for the empowerment of children and young people from marginalized communities.
At the end of the expedition Shanjali technically covered more distance. She used to cycle an average of 50 – 80 Kms while Khade kayaked for 30 – 45 Kms in a single day. While Khade promoted kayaking through this expedition, Shanjali wanted to change perspectives of Indian people. She wanted to clear the misconception of women not getting out to travel. In a conversation with Livemint she said;
"There is this popular thought that women don't really get out travelling much. I wanted to change that," says Shahi. "Women are increasingly taking up solo trips, trekking and other adventures."
What a grand way to bring the misconceptions to rest indeed!
                                             JUST THE BEGINNING
The super couple aspire to accomplish a lot more. In the same interview with Livemint, Khade said:
"India has a massive coastline, 7,500km, which is one of the longest in the world. But Indians don't go out exploring it," says Khade. "Shanjali, who has always been a traveller, also wanted to cycle through India, so when I came up with the idea, she joined me."
So their plan is to eventually cover the entire coast of India. Kutch to Kanyakumari was just one phase.
Super couple, super humans indeed!
Comments
comments