Camping tips for beginners 
Ah, the great outdoors! You haven't truly lived until you've pitched a tent and camped with only a few bare essentials. Do you find yourself sitting on Facebook and admiring those post where people just seem to travel, backpack and camp whenever they feel like it? Well you can too! There are so many places one can go camping. Even around where you live, you just have to look. Don't know anything about camping? Well this article is perfect for you, below you will find the best instructional camping tips for beginners, so before you get too excited and scurry off with your tent, go ahead and read on.
Research & Purchase
So before you go for your camping trip, make sure you research where you are going. Check online about local campsites and rules about the area you wish to camp in, make sure you know everything beforehand. It is also a good idea to check what the weather will be like during your stay so you can prepare for the worst.
After you do your research, it's shopping time! The best advice anyone will ever give you is to invest in good quality gear, don't be stingy because you do get what you pay for. You wouldn't want a flimsy tent that could collapse if there was a storm, would you? Go ahead and spend on a good tent, sleeping bag, and the important supplies you would need.
Supplies
Obviously your supplies depend on your personal items and what kind of camping environment you will be in (forest, sand, snow etc.) So here we list just the basic supplies you would need for your trip:
Tent
Sleeping bag
Torch
Matches
Water
Food
Plates & Cutlery
Bug repellent
Medical kit
Spare clothing
Personal items
Pen knife
Pitching Time
Time to pitch your personal castle! Now imagine this situation: you go on your camping trip, you take out your tent and try and pitch it when… uh… you don't exactly know how to? The next hour or so is spent struggling with pieces of sticks and cloth when all you want to do is kick back and relax. What is the best thing to do? Practice pitching your tent in your backyard, do this a few times until you get the hang of it, it will make life a whole lot easier.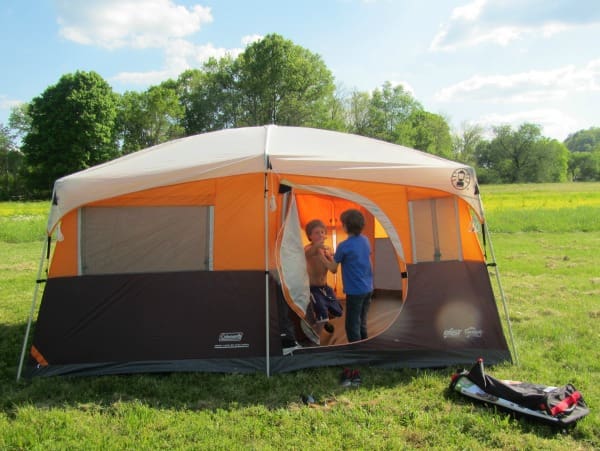 When you reach the campsite, make sure the ground where you will be assembling your tent is clear of all rocks and twigs and the surrounding area is open and not clustered with trees.
Once you scouted the perfect area for your tent, you can go ahead and pitch it, make sure you put a water proof sheet over it even if you think it won't rain. You never know! Dump your sleeping bag inside and if you want you can even invest in an inner mattress for your tent, super comfy!
When Hunger Strikes
One of the easiest things to do would be to bring along a few snacks, sandwiches and juices. Who doesn't like roasting a big, fat, juicy hot dog over the fire? Or marshmallows, god's gifts to us mere mortals. After you've had your fill, make sure there isn't any food lying around, pack everything away in a nice tight container. You wouldn't want any midnight visits from forest creatures, would you?
Night Night
The day has come to an end and its time to catch some Z's, but here are a few things to keep in mind before you snuggle down in your sleeping bag. Make sure everything around your campsite is cleaned up and put away in your tent, curious animals have been known to snoop around! Give your tent a quick once over. Make sure the poles are secured safety in the ground and your rain-proof sheet is covering the entire tent. Once everything is in order its time to say goodnight.
Bye Bye
After an amazing experience in the outdoors, it is time to finally say goodbye (until next time of course.) Before you leave your campsite, remember, always leave nature the way you found it. Clean up everything after you and leave not a trace behind. Make sure all the garbage is safely wrapped up and extra food is put away.
Well! Hope you guys liked that and learned a lot, now please get off your laptops and go explore! Everybody needs to go camping at least once in their lives, use this article to help you out, grab your friends and be gone!
Also, please do post experiences of your amazing camping trips in the comments below or on our Facebook page.
We would love to hear from you!
Comments
comments